All The Gear, All The Time.
When I got my
first bike
in September 2002 I had nothing as far as gear went. My first ride was in a t-shirt, jeans, some
Earth Spirit
boots, and the helmet that came with my bike's purchase. If I knew then what I know now I may have been more prepared. The next day, I went to the
Great American Motorcycle Show
that they were having at the North Atlanta Trade Center in Lilburn, GA where I bought my first two pieces of motorcycle kit: A purple bungee net and black perforated gloves. At the time, I only knew two other riders and I never saw them wearing anything "motorcycle" specific besides helmet and gloves.
By the time the International Motorcycle Show visited Atlanta (around January), I knew I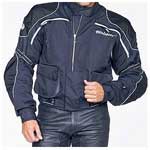 needed more gear. I bought a yellow Fieldsheer Cabrio motorcycle jacket at the show. I'd learned from riding around in cool weather that the combination of a worn leather bomber jacket and naked bike meant sail rather than ride.
The Cabrio was a great improvement to my riding experience. Wearing it meant I could ride in cooler temps without feeling like the wind was pulling me off of the bike. My friend scoffed, declaring it an unnecessary expense. A few weeks later, he and I went to the bike shop where he purchased his own motorcycle specific jacket. Apparently watching me cut through the wind rather than fighting it made an impression.
After the jacket, I learned my Isotoner driving gloves were not as comfortable on the bike as they were in the Mustang. When I asked my brother and friend for suggestions, they both told me to get some winter gloves from Wal-Mart or Target. They were not much better so I went to the Motorcycle shop and bought some
Hein Gericke
winter gloves. Another big improvement. I could now manage the bike's controls in comfort and relative warmth.
A few months later I moved to California where I discovered the Cabrio was too hot for summer riding. By then, my motorcycle gear knowledge had grown exponetially. I understood there were varying degrees of rider apparel and riders. The gear a rider chose generally correlated to the type of motorcycle they rode.
Toward the end of the summer, I scored a gray (they didn't have yellow)
Joe Rocket
Phoenix 2.0 mesh jacket (without a liner) from
Cycle Gear
on clearance. Again another vast improvement. I lost the unwanted feeling of the wind whipping my sleeves and tugging my shirt while retaining the feel of the wind around my body. By the end of my first riding year, I had motorcycle specific gloves and jacket. I also replaced my black boots from payless for tan Steel Toe boots because I discovered the California sun cooked feet covered in black boots (kind of like black softball cleats). I thought I was doing pretty well. I had no desire to get a full on leather suit which I deemed overkill for the street riding/commuting I did and no money for a
Aerostich
or something similar. My gear was a compromise between the two.
When I returned home, my brother and friend both questioned my sanity for riding in a jacket in the summer time, "Don't you get hot?" I'd shake my head and say, "It's mesh. It feels like riding in just your t-shirt but with protection in case you have a get-off." I never convinced them; they stuck to their t-shirts.
Later, I got a
faster bike
. After a few rides I knew whatever gear I'd acquired was no longer good enough to go with the new speed I'd gained. I wanted more protection. For my birthday, I convinced my mother (and later my aunt who couldn't let my mother get one up on her--gotta love sibling rivalry) to buy me a new "summer" jacket. I got a
Fieldsheer Flex
leather perforated jacket (at 55% off srp) and Auntie chipped in to buy my first pair of motorcycle riding pants (at 45% off srp)--the
Fieldsheer Four Season Mesh Riding Pants
, taking advantage of Fieldsheer moving their distribution facility and blowout pricing.
A couple of weeks ago, I was cruising the internet again when I stumbled across a jacket to replace my Textile "winter" jacket. I just bought a
First Gear Monarch
jacket for 81% off the retail price. I couldn't pass it up so I am retiring my trusty old Jacket for the new one. Sure, it's the 2009 model (<--left) but I like the look of it compared to the 2010 version. I don't think there's a difference in the technology. So now, nearly 10 years since I started riding a motorcycle (I took the MSF course in 2000), I'm almost ATGATT. In the next few weeks, I'll buy some
motorcycle boots
to replace the steel toe work boots I currently ride in and a
new helmet
because it's time for one. Then I'll be ATGATT for all seasons.